A power line that has fallen to the ground should always be treated as live. Contact with the line could result in a serious injury or death to you or one of your family members or a neighbour.
The first trim is free
The first cut or trim of a tree, unless the tree is covered by a previous arrangement with Electra, is part of a Horticultural Shelterbelt or trees around a private service line (see explanation of Trees and private service lines), is performed free of charge by Electra. Our Utility Arborists will contact the tree owner to arrange for this to be done.
On-going trim costs are the tree owner's responsibility
After the free first cut or trim, the tree owner is responsible for all on-going maintenance costs. Our arborists carry out regular inspections and issue tree owners with a cut or trim notice when their tree is growing into the growth limit notice zone. Once the tree owner has been notified that their tree is encroaching the growth limit zone, the owner must:
Arrange to have the tree trimmed by an approved utility arborist within the time specified on the notice. This is because working near network lines is extremely dangerous and by law can only be done by an approved utility arborist. 
Provide us with three working days notice before the tree is due to be cut or trimmed by the approved arborist. This is because all activity close to network lines must be monitored at all times.
Tree owners must comply with the notice in the time stated or they could be fined up to $10,000. They could also be liable for costs if electricity lines or equipment are damaged by a tree.
Work near electricity lines is extremely dangerous and under the regulations only approved utility arborists are allowed to trim trees within 4 metres of a network line.
A tree owner can only trim a tree when all parts of the tree are 4 metres or more away from network lines, so save the on-going costs of complying with the regulations by having the tree trimmed to where you can maintain it yourself.
The responsibilities of tree owners
Tree owners are responsible for keeping their tree(s) clear of electricity network lines.
Declaring 'no interest'
A tree owner who does not want to be responsible for keeping the tree trimmed to outside the growth limit zone can declare 'no interest' in the tree provided:
the tree was naturally sown, or
at the time of planting the tree owner (current or previous) reasonably believed that the tree, when fully grown, would not interfere with any power lines or electricity conductor.
Electra will provide a letter for the tree owner to declare 'no interest'.  After checking that the tree meets the 'no interest' criteria, we will take responsibility for keeping the tree clear of power lines. Please be aware the tree may be removed if it is likely to cause a continuing problem.
If you have an interruption to supply of electricity please call 0800 LOST POWER 0800 567 876.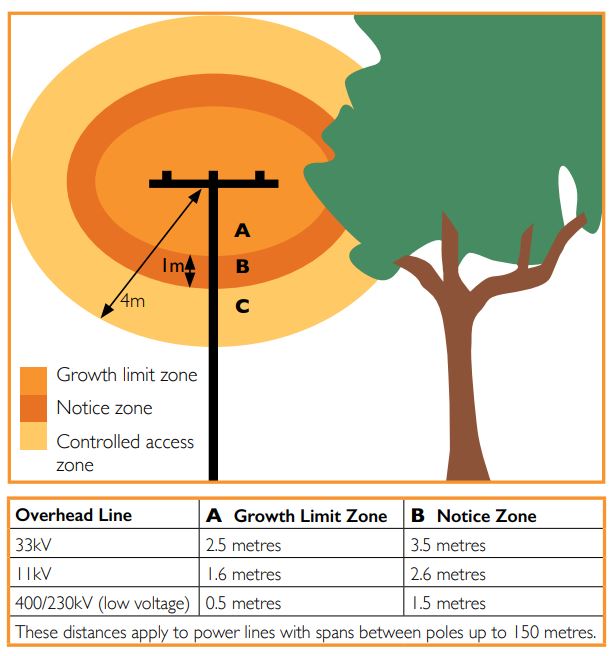 Trees and private service lines
Service lines (the lines that connect a property to the network lines in the street) are owned by and the responsibility of, the property owner. The regulations do not cover service lines and we are not responsible for checking or trimming trees around them.
For safety and to protect your power supply it makes good sense to keep trees away from your service lines. You can hire a professional arborist or you can trim the tree yourself. Service lines are dangerous so, unless you are using an arborist qualified to work around live lines, always have your power supply temporarily disconnected before you start.
Remember that children love climbing trees and may not see the danger of overhead wires amongst the branches.

Keep your trees trimmed well clear of the wires, but obtain assistance or advice from Electra when there is likelihood of danger to yourself or your family, or of the tree falling against the overhead lines.